A Lion for Leominster
The origin legend of Leominster says that a monk from Northumberland, St Edfrith, visited pagan King Merewallhd here on his travels. A lion approached Edfrith, and Edfrith gave him food, which calmed the lion who lay down meekly. Edfrith was so moved that he chose to found Leominster Priory here, which became an important monastery in medieval times.
As part of our exploration of Leominster's heritage, locally-based theatre company, The Fetch, is making a giant lion puppet that will encapsulate the voices of Leominster into a mighty roar of pride and creativity. We are hoping to launch the finished lion at the Leominster Festival celebrations over the Jubilee weekend... watch this space for more details about the launch event!
We are excited that work has begun on the lion at The Fetch's studio, and once the skeleton is complete it moves to Earl Mortimer College for a two week residency, allowing students to help to complete the lion and learn more about puppetry and Leominster's story, as well as record a roar of Leominster's young voices that will be incorporated into the lion's own roar.
The team started by researching how a lion looks and moves, and then projected an image of a lion onto paper on the wall to get the scale right. They then mapped out the actual skeleton so that they could build one that had the same joints and movement. The puppet's structure is made of light aluminium bars and then a flexible caboo outer-skeleton to create the lion shape. The lion will be covered with a skin of fabric and glue that is painted, and a mane will be added.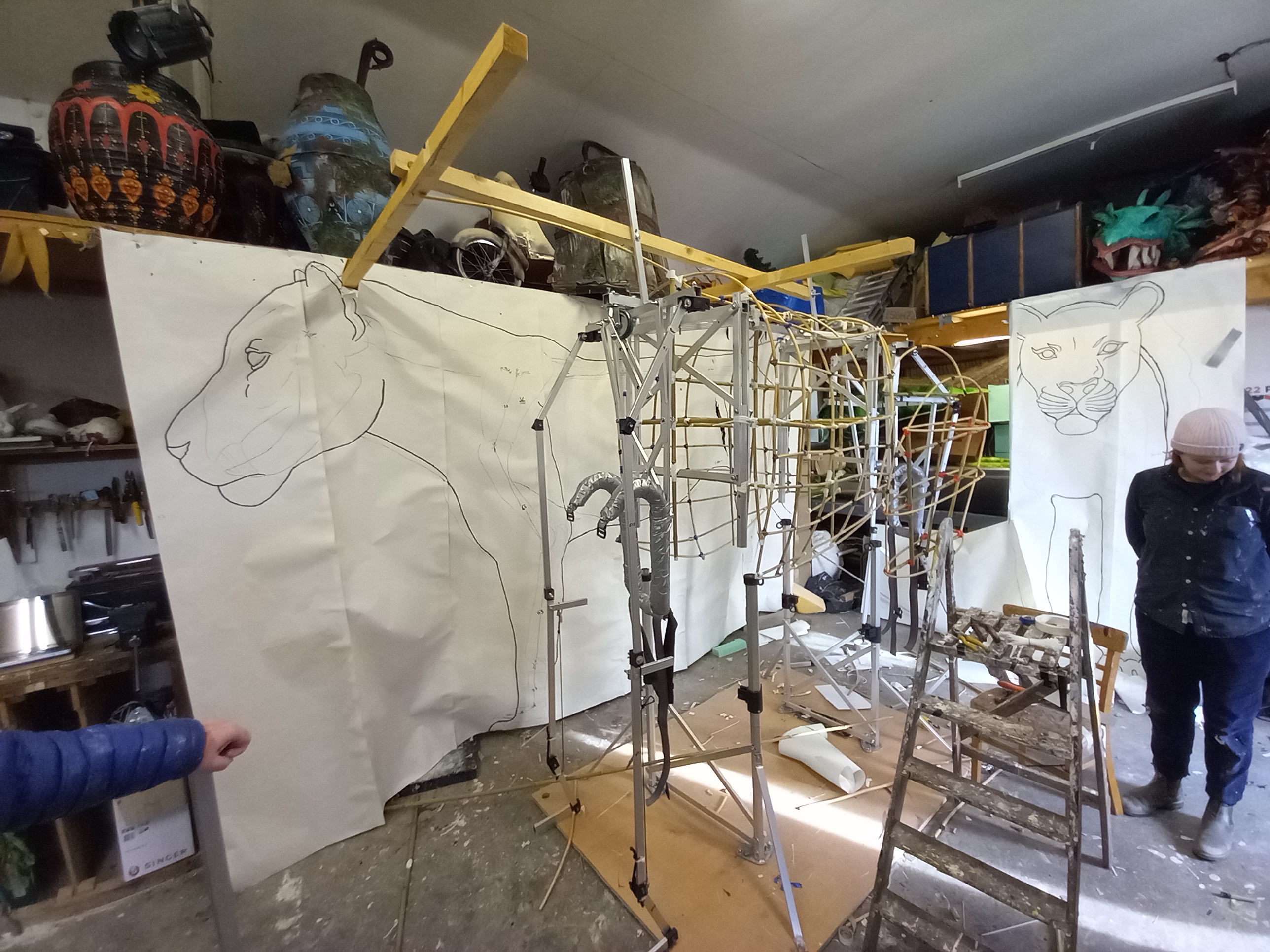 Purvin, Artistic Director of The Fetch created a small version of the head to practice the shapes and mechanics before moving onto the full scale version. He can be seen here working on the head, adding some padding to the nose, while assistant puppeteer Ruby works on the lion body.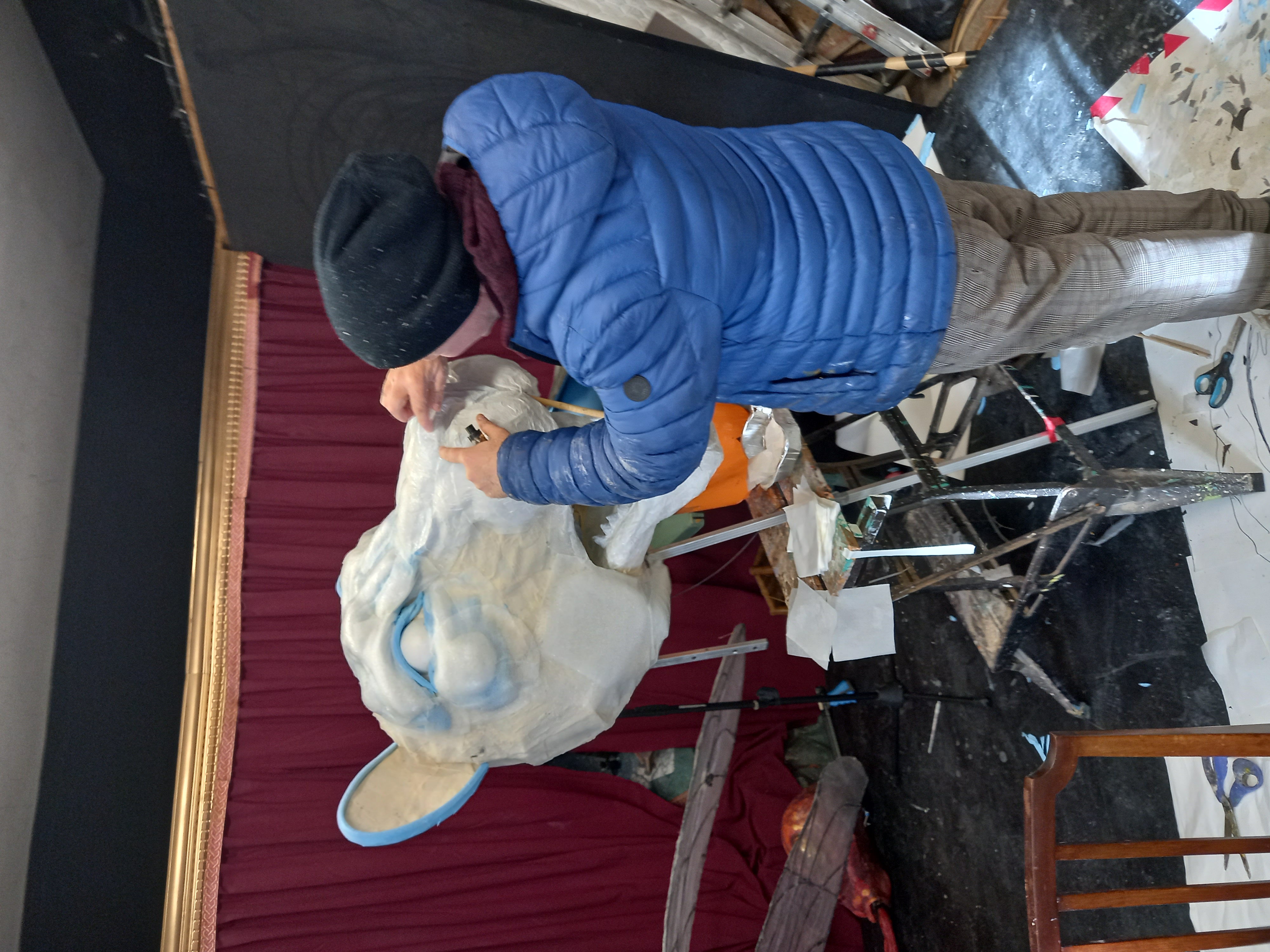 We spent two weeks at Earl Mortimer College and a group of students each day helped to make the lion, as well as learn about puppetry.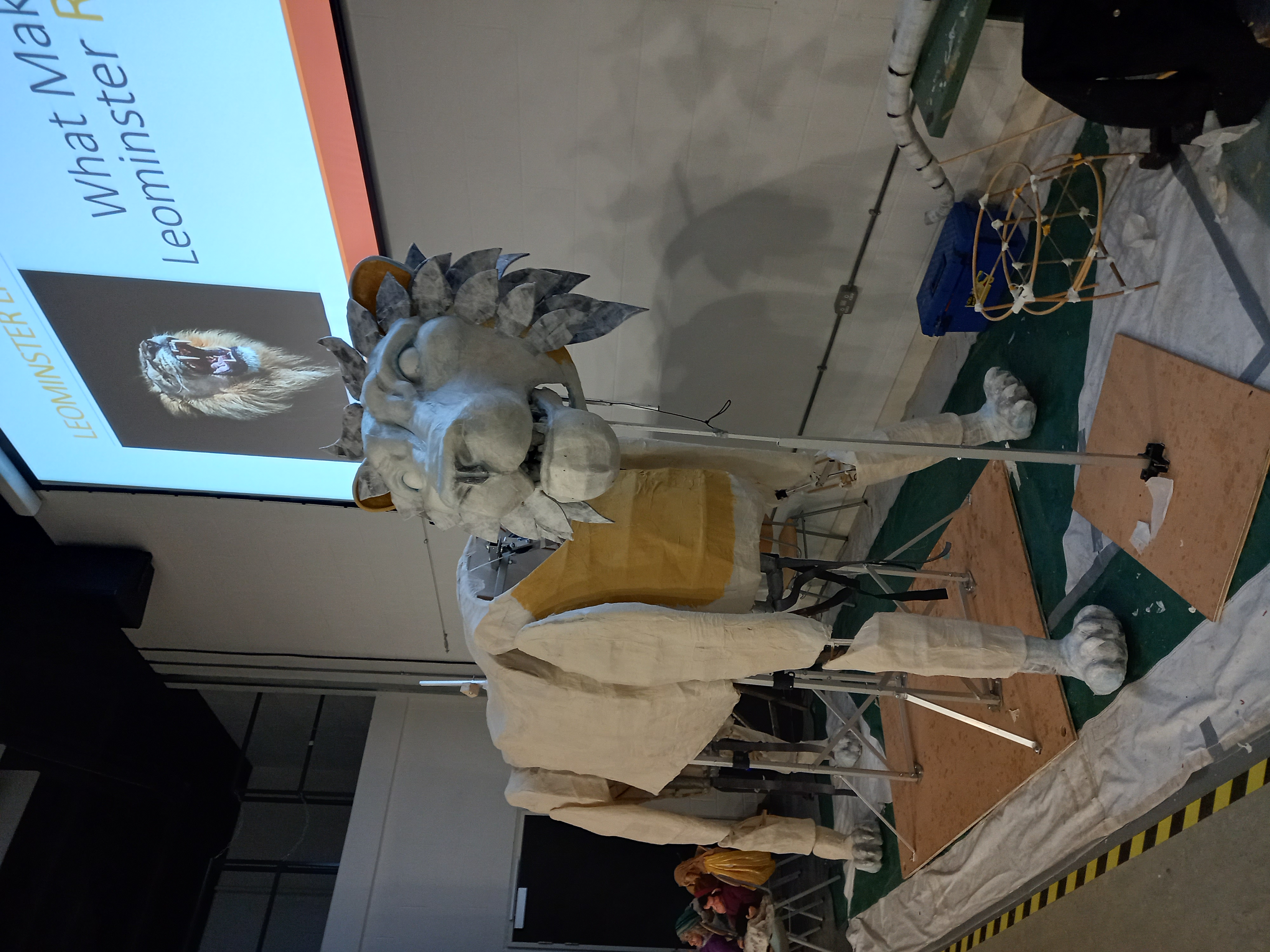 The finished puppet will need four people to operate it, one for each set of legs, one for the head and one for the tail, and we will need some volunteer puppeteers to learn how to do it once the lion is complete. Get in touch with us or join our email newsletter to find out about how to get involved. In the mean time watch this space for more updates about how the lion is getting on.